Welcome to the Terrier Lovers Webring homepage! This webring is open to all websites and personal homepages of Terrier lovers on the Internet! If you would like to add your site to my webring, it must meet the following criteria:
1. Your site must have some content relating to Terriers.
2. Your site must not contain any illegal or offensive material.
3. Your site must be family-friendly and safe for children.
To join my webring, please do the following:
1.Download the webring graphic (below) to your computer and
upload it to your webpage server. You must put it in the same
directory as is the webpage you are putting the webring HTML
code on or it will NOT show up on your site.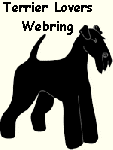 1.Fill out the form below: