The Rainbow Angels Webring is open to all memorial websites and homepages that are dedicated to all beloved animal companions that have crossed the Rainbow Bridge. To join, just follow these steps:
1. Save the ring graphic shown below to your hard drive and then upload it to your webpage server into the same directory as is your webring page. If you don't do this, the ring graphic will not show up on your webpage. I will not admit any site to the ring unless the ring graphic shows up correctly on your webpage! Right click on the graphic to bring up the menu that will allow you to save the ring graphic to your hard drive.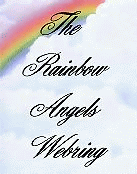 2. Fill out the form below completely to submit your site to the queue. Be sure that the URL you place on the application is the same exact URL the HTML fragment will be on or your site will not be admitted into the ring.
3. Insert the HTML Fragment into your page. You will be sent the HTML Fragment by email. Be aware that pages only stay in the queue for 10 days, so please be prompt!! AOL MEMBERS: You will not be able to receive the ring fragment via e-mail because AOL distorts HTML. However, once you know your Site I.D. number, scroll down this page and enter your Site I.D. number and password in the Member Edit Area and it will bring up your customized HTML code for you. Be sure your e-mail address and Site I.D. appears correctly in the code. You can E-mail me if you need assistance.
4. Ask the ring manager to add you to the ring! Let me know your URL and site I.D. and I will add your site to the ring ASAP.
5. Sites which contain profanity, pornography, or any type of illegal material will not be admitted to the ring. All sites must be viewable by both adults and children.