Max The Welsh Terrier
May 1991-August 11, 2001
---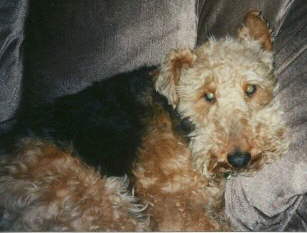 Max was a Welsh Terrier we adopted from the local Humane Society in March of 1995 when he was about four years old. He had been given up by his family because they didn't have time for him. Max was unlike any terrier I have ever met! He was very quiet, calm, and laid-back. His favorite activities were being cuddled, sleeping, and eating. He did sometimes like to play with Cosmo and Kirby. Max crossed the Rainbow Bridge on 8/11/01 after fighting an unknown illness that was destroying his liver. He was a fantastic friend and we will miss him deeply.
The coming days will be hard for me, but for Max's sake, I will try to face them with a smile. I will try to remember something good about him each day, as he was in his prime. I will hold him in my heart since I cannot hold him in my arms anymore. And someday, someday we'll be together again on the other side, happy and never to be separated again. I believe this with my heart, for what other creatures except our beloved pets give us true unconditional love in this lifetime? That is why I believe our pets will be there in Heaven with us. For you, Max, I will do my best to give that same kind of love to all the animals who come after you in my life. To do anything less would be a sin. I love you very much Max and I will miss you.
---
In Memory Of Max:
It doesn't matter how their journey began,
or what their roots maybe.
Be they a fancy, purebred show dog,
or a fuzzy funny-faced mutt.
It doesn't matter how or when,
you brought them into your home.
As a wee little well-bred puppy,
or a shelter dog all grown.
You bring them into your heart,
loving them with all your might.
Worrying about the food you give them
spoiling them with toys and treats.
You値l fret about their health,
probably more than your own!
You値l watch over them as years go by,
as they age and turn gray.
A growing feeling deep inside,
there will soon come a sad day.
Either you値l find them still,
and know their life is complete.
Or you値l see them full of pain,
and know they are suffering.
Then you値l pick them up with loving hands,
and stoke them one last time.
As the vet gives them one last shot,
they値l look into your eyes with love.
You値l be the last thing they see,
your words the last thing they hear.
Onto the Rainbow Bridge they go,
waiting for you with devotion.
Feel free to cry, yell, rage,
don稚 stifle your emotion.
You値l look back one day,
with a smile instead of a tear.
Know that they値l always love you,
and never, never fear.

-Kim Miller, 8/15/01
Max Enjoying
A Rawhide Chew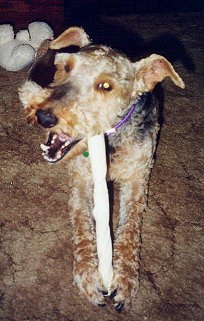 Sweet Dreams, Max!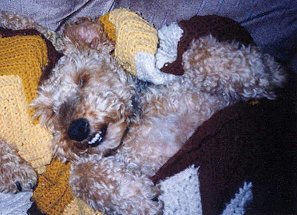 In this picture, Max is grinning!
Don't let his expression fool you!
Reindeer Max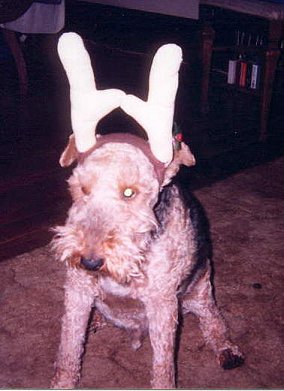 Max and Cosmo In Front Of The Heat Vent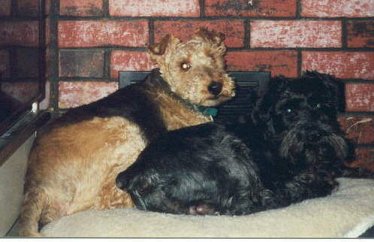 Max In The Snow,
December 2000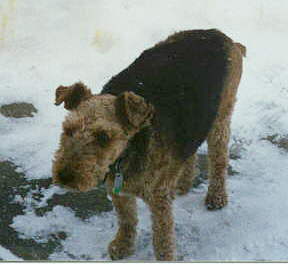 Poem By
Kim Miller
Copyright ゥ 2001
All Rights Reserved